You are expecting a business visit and need a mini van for up to six people. To pick up your guests from the airport. Then the Mercedes-Benz V-Class 250 D Avantgarde extra long with 4-Matic all-wheel drive is the ideal choice.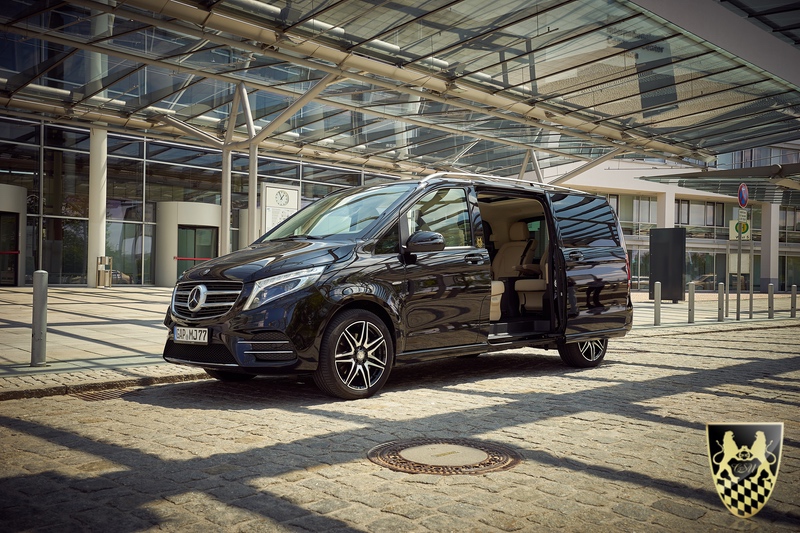 Our limousine service offers this upscale minibus for 6 persons with first-class equipment and many extras. Impress your business partners and guests from the very first moment and ensure highest comfort. The equipment line Avantgarde meets even the highest demands. The compact van is just as suitable for picking you up at the airport or train station as it is for transit trips to trade fairs or your company. Vis-a-Vis seating is available on request to create a good, communicative atmosphere during the journey. A fold-out conference table in the minibus makes it possible to work in the vehicle.
Buiness Mini Van Mercedes-Benz V-class Avantgarde extra long for up to 6 guests
The W-Lan connections in the vehicle, which all business travellers can use, also contribute to this. With the full leather interior in light beige, the interior becomes an absolutely exquisite eye-catcher. And thanks to the refrigerator and minibar, the physical well-being of all travellers is taken care of.
Use our Mini Van for tours and event shuttle
We are happy to provide you with a professional chauffeur and other service staff for the Mercedes-Benz Mini Van. In addition to a safe drive, you will also benefit from a competent tour guide through Munich and the surrounding area. In principle, the exclusive Mercedes-Benz V-Class can be used for many purposes, for example
Minibus for 6 persons for ski transfers to the alpine region
Sightseeing and sightseeing tours with a mini bus
Airport transfer with a minibus for 6 persons
Minibus for road shows and delegation visits from the limousine service
Rent a minibus for sightseeing tours through Bavaria
Depending on the upcoming business appointments of your company, the vehicle can be equipped differently. Simply contact us to secure the right mini vans from our fleet at the desired date.
Interested in our Mini Van or minibus in Munich? Please contact us!
You want to offer your business visitors comfort and elegance? You expect the same elitist driving experience from a minibus as as a passenger in a limousine. We would be pleased to show you personally how you can inspire every passenger with a minibus. Get to know the V-Class through our pictures and contact us afterwards. We would be happy to help make your next business appointment a complete success!