The Medical Service Team of our limousine service is excellently networked and takes care of all medical concerns. Due to the first-class private medical care, Munich is an attraction for VIP patients from many countries. We are the right contact for a comprehensive medical service in Munich.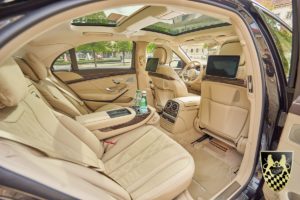 With the best network, many years of experience and highly trained, multilingual staff, we ensure that a medical stay in Munich, Austria or Switzerland is combined with the best possible comfort. We offer our sophisticated patient service as a tailor-made frameset concept. This includes airport transfers, hotel bookings, patient transport and appointment coordination, all aspects of complete VIP care. We are able to arrange appointments for our VIP clients in medical practices and the best private ambulances without waiting time. If desired, our frameset patient service includes the complete coordination of all appointments. We are happy to develop the entire medical programme for our clients in consultation with the clinic's board of directors. In this way we guarantee a smooth flow of all services in the medical field and beyond.
Medical Service and Travel – all-round service for highest demands
VIP patients who use medical services in the Bavarian state capital want to rely on professional all-round care during their stay. This makes it necessary to develop individual full-service concepts down to the smallest detail. As specialists for medical travel, we look after private patients from all over the world. With us at your side, you can rely on a prudent and serious coordinator to ensure that your health trip runs smoothly in every respect. We combine medicine at the highest level with luxurious additional services to provide a professional and discreet all-round patient service.
Patient transport in luxury minibuses and limousines for maximum comfort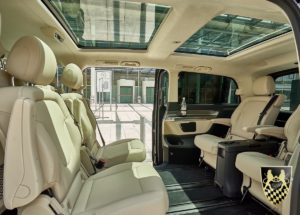 Our sophisticated patient service is of course primarily aimed at making every transfer between airport or hotel to the hospital and to the medical practices as pleasant as possible. Medical services require an individual patient service with regard to the journeys. For our patient care, we have our own ultra-modern and extensive fleet of luxury vehicles for every purpose. This enables us to meet all individual requirements in terms of smooth, comfortable travel within the framework of patient service. For an extremely pleasant sitting transport we provide spacious and top-equipped limousines depending on your individual requirements.
Even with physical limitations of any kind, we can guarantee optimal patient care. Our SUV vehicles allow a comfortable entry and offer every comfort of an optimal seating position. Of course, professional transport of patients in a lying position is also one of the basic services of our Medical Service in Munich. It does not matter whether the transport of the couchettes is needed for trips to the hospital, to therapists or to the rehabilitation clinic. For our patient care, we have large-capacity limousines with a long wheelbase as well as luxury minibuses of every size. Thanks to the adjustable seats, every journey from the private clinics to the hotel in our vehicles is extremely relaxed and pleasant. The spacious minivans also provide the ideal environment for longer trips to health facilities in other cities or in neighbouring countries. The luxurious interior of our vehicles leaves nothing to be desired, even on journeys lasting several hours. State-of-the-art technical equipment features offer the possibility of varied entertainment during the journey.
First-class patient care by the Medical Service Munich
Medical Service in Munich and throughout Bavaria
Patient care in the greater Munich area with minibuses
Patient transport with trained specialist staff Lying transport
Visits to doctors in the Greater Munich area with patient advisor and chauffeur
Patient care directly from MUC Airport or the General Aviation Terminal to the clinic or hotel
Transfers of patients in ligend or seated transport with accompaniment to the doctor
Chauffeurs for lying transports of VIP patients
Patient accompaniment with interpreters to private clinics in and around Munich
For us, medical service does not only mean ensuring professional patient transport for the highest demands. Our multilingual staff is also available around the clock for patient care during all medical services. We accompany the patients to all doctor's visits if desired. As experienced interpreters, we ensure that no questions remain unanswered when communicating with doctors and therapists. Of course we also personally ensure that no wishes remain unfulfilled during the stay in the clinic or in a rehabilitation facility. In consultation with the clinic's medical staff, we ensure the best possible comfort in all situations.
Optimally networked in the field of medicine for a comprehensive patient service
We are a renowned professional in the field of comprehensive VIP support in the Bavarian capital. In the course of our work we have built up an excellent network of doctors and other renowned specialists in the field of medicine over the years. Our close contacts to renowned medical institutions as well as private doctors and therapists of all specialties allow us to offer Medical Service in Munich as frameset patient care.
Exclusive health travel partner for a relaxed stay
Professional patient service does not only mean personal care when it comes to coordinating appointments in the medical field. The patients should be able to concentrate fully on the treatments and the subsequent recovery. Therefore we understand our patient care as a comprehensive health travel concept. As a renowned health travel partner, we take care of all aspects of the medical stay on request. We take care of the booking of the hotel or any other desired accommodation. From the moment of arrival in the Bavarian metropolis, we are available to our VIP patients without restrictions. Also all necessary trips to the surrounding area, to other German federal states or to the neighbouring countries Austria and Switzerland are carried out by us professionally, safely and reliably. We always attach great importance to ensuring that our patient service is optimally adapted to the health condition of our customers.
Medical Service with trained specialist personnel
Multilingual interpreters Russian, Arabic and English for patient care
Professional network to private clinics in and around Munich
Many years of experience in the care of VIP patients from abroad
Quick appointments with specialists for private patients
Social programme such as sightseeing and shopping tours for patients' relatives
Hotel bookings and ticket service for VIP patients by our Medical Service
Medical Service Munich with individually compiled supporting programme
Our patient service aims to satisfy all wishes far beyond the services in the field of medicine. Many patients who travel from abroad would also like to take advantage of Bavaria's excellent wellness offers. Sightseeing and luxury shopping in the Bavarian capital is also an important aspect of the stay for many VIP patients. Therefore, we understand first-class patient care as the coordination of an exclusive social program according to individual wishes. In addition to the required medical services, our experienced staff will be happy to organise excursions to renowned wellness areas and spas. Of course, the chauffeur in charge of the patient will ensure all comfort during the trips.
Of course, we can also fulfil the wish for a tailor-made shopping experience after medical consultations as part of our sophisticated patient service. If the VIP care of the patients is to include a varied cultural programme, we are of course also the right contact partner. Our staff will take care of organising tickets of all kinds in advance as well as all reservations in first-class restaurants. Thanks to their excellent knowledge of foreign languages, our chauffeurs are happy to help their VIP clients to get to know the sightseeing highlights of Munich and the surrounding area.
We make every effort to make every medical stay in the Bavarian metropolis, in Austria or Switzerland pleasant in every respect. Medical Service means for us the entire organization of health services at the highest level. In addition to medicine, the coordination of the entire supporting programme also plays a major role in our work. For us, first-class patient service combines the best possible medical care and the highest level of comfort in all situations. This is how we ensure that your health trip to the Bavarian capital will meet all your expectations. Lean back in confidence and enjoy all-round patient care from your Munich partner for Medical-Travel.