At the limousine service you can rent a luxurious bus for 8 passengers. For all business and private requirements we provide the right luxury minibus in Munich. In our modern equipped vehicles 8 persons are flexible and comfortable on the way in whole Bavaria. Rent a bus of the latest generation and enjoy the best possible all-round service.
Rent a luxurious bus for 8 passengers for every requirement
You need a comfortable transport of 8 persons in Munich or Bavaria? We are your renowned contact for all private companies and business events. We have a modern and extensive fleet of luxury minibuses. This includes the latest models of the top brands Mercedes-Benz and VW. Lean back in a Mercedes-Benz V-Class, for example, and enjoy an exclusive ambience. In all our minibuses for 8 persons the light and noble full leather interior provides for highest comfort, WLAN hotspot and refrigerator are also part of the equipment of our elegant vehicles. Thus you and your companion can relax on all journeys. Our minibuses with multimedia equipment make even longer trips throughout Bavaria an entertaining pleasure.
Luxury minibus for 8 persons rent with chauffeur
Renting a minibus allows flexible planning of activities with groups of up to 8 people. Every airport transfer with a minibus from our fleet of vehicles is particularly pleasant. Your chauffeur will meet you and your companion at the airport. For all our drivers a representative appearance and best manners are a matter of course. Our chauffeurs with multilingual language skills guarantee optimal personal care for VIP guests from all over the world. Therefore we are also the right contact for all transfers of international delegations and business people. Rent a luxury van of our company for a reliable and discreet event and trade fair shuttle service.
Rent a bus for 8 passengers in Munich
Rent minibuses in every size
Bus rental from 5 to 75 persons as event shuttle in Munich
Rent a bus for 8 passengers for sightseeing tours to the royal castles Neuschwanstein and Linderhof
Messe München ICM exhibition shuttle with a minibus
Rent a minibus in Munich for business customers
Event driving service and event shuttle service in Munich
Minibuses and coaches for the ideal exhibition shuttle service
Bus rental for wedding parties and private events
Rent a bus for 8 persons with driver in Munich
Rent luxury business coach for business people
Of course you can also rent our elegant luxury vans for the transport of your wedding party or party guests. Private travellers can be taken quickly and comfortably to their hotel in Munich or Bavaria in a luxurious minibus for 8 people.
Flexible holiday planning with bus for 8 passengers
Culture enthusiasts from all over the world are drawn to the Bavarian state capital. Many travellers want to explore the famous sights of Munich. Hire a minibus from us for sightseeing tours – including a chauffeur who knows the area. Your personal driver will bring you closer to all the cultural highlights of the vibrant metropolis. Besides relaxed discovery tours through Munich, our luxury minibuses are also available for excursions to Bavaria. Let us take you directly to the picturesquely situated fairy-tale castles of Ludwig. II. After extensive enjoyment of architecture and art, your chauffeur will pick you up again at the agreed time. Would you like to explore the picturesque villages at the Tegernsee, Chiemsee or Starnberger See? In a minibus for 7 persons you can experience the beauty of the Bavarian landscapes already on the trip. All stays in the nature of Bavaria can be planned flexibly with the Limousine Service Munich. After your excursion you will return to Munich in our minibuses completely recovered.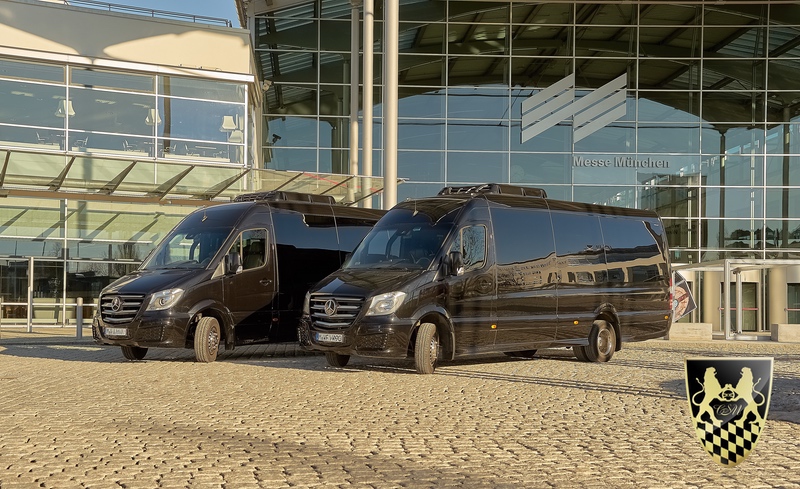 Rent a Coach for 5 – 75 persons in Munich
Your skiing holiday will also be particularly relaxed thanks to our comprehensive range of services. You can reach Garmisch-Partenkirchen directly from Munich airport or train station. Luggage and sporty equipment of all travellers can be easily accommodated in our extra long minibuses. Our ultra-modern 4WD vehicles ensure that you can travel safely in the Bavarian alpine landscapes in all weather conditions. Look forward to uncomplicated winter sports fun with the whole family with our chauffeur service!
Kleinbus für 6 Personen mit Chauffeur
Mercedes-Benz Kleinbusse von 16 – Personen mieten
Reisebus für 5 – 55 Personen in München mieten
Busse für Veranstaltungs Shuttle Service
Kleinbusse für VIP-Handling bei Filmproduktionen
Luxus Bus mieten wärend Dreharbeiten am Set für Promoinente Schauspieler
Luxus Kleinbus mieten für Delegationen und Staatsbesuche
Our Mercedes-Benz VIP Bus for 8 people is always the first choice for pampered VIP customers from all over the world. With these minibuses even the highest expectations are met.
No matter whether sightseeing tours, state visits, VIP care or castle tours. The chauffeurs of our limousine service know your rental very well and show you Bavaria from its most beautiful side on a sightseeing tour.
Rent a coach for 8 people in Munich
Contact our limousine service today to rent your individual luxury minibus.